Weight Loss Product Success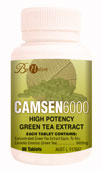 Australian natural health company, By Nature are struggling to keep up with demand for their medicinal green tea extract, Camsen 6000, which is designed to promote fat breakdown and reduce stored body fat. Camsen 6000 is available in tablet form. A feature of the new treatment is its high level of Polyphenols which promote weight loss.
Camsen 6000 is unique compared to many other green tea extracts in that it delivers 6000mg of green tea per tablet, which is ten times more potent than some other supplements. The high potency dosage is based on a range of dosages shown to be effective in clinical trials.
Scientific research has found that polyphenols can promote "fat burning" when taken in the appropriate dosage.Ordinary green tea drinks or low dose supplements do not contain enough polyphenols to promote weight loss, but when taken in measured higher doses the polyphenols boost the body's metabolism which in turn promotes weight loss.
When used together with a well designed diet and exercise program, Camsen 6000 can aid weight loss.
In addition to weight loss, polyphenols promote other health benefits. "The polyphenols found in green tea are the most powerful anti-oxidants known. These anti-oxidants help to protect cells from oxidative stress thereby enhancing general well being. Green tea Polyphenols also help to reduce cholesterol levels.
Camsen 6000 is subjected to rigorous scientific testing, to ensure that the potency, purity and internationally recognised manufacturing standards are met.
By nature is an Australian owned company founded in 1999 that develops effective, scientifically proven natural health products. By Nature manufactures all of its products in Australia in strict accordance with the internationally recognised code of Good Manufacturing Practice (GMP). Always read the label and use only as directed.
For more information about Camsen 6000, call 1300 669 216 or visit By Nature - Health Products